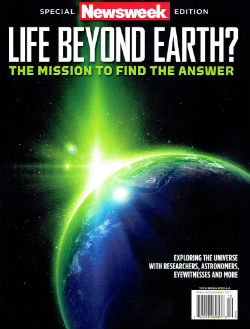 Alejandro Rojas has a short description of the recent special edition of Newsweek. Here's his first paragraph:
Newsweek recently released a special edition magazine titled Life Beyond Earth? The Mission to Find the Answer, and while one might expect it to be dominated by stories about NASA's search for extraterrestrial microbes, or the SETI Institutes search for extraterrestrial radio signals, instead it is full of information about topics such as UFO investigations and alien abductions. That may make some of our readers cringe in fear of ridicule, but the stories are balanced and largely treat the topics positively.
Click through to read the rest of Alejandro's post — and get the issue!