Finally … I can post the new cover for The Facade and its imminent sequel, The Portent.
Honestly, I didn't like the cover art chosen for The Facade by Kirkdale, so this change (new designer) is quite welcome. The design and editorial team wanted both books to look like they belonged together, which of course makes sense. I think they did a great job. Here's The Facade: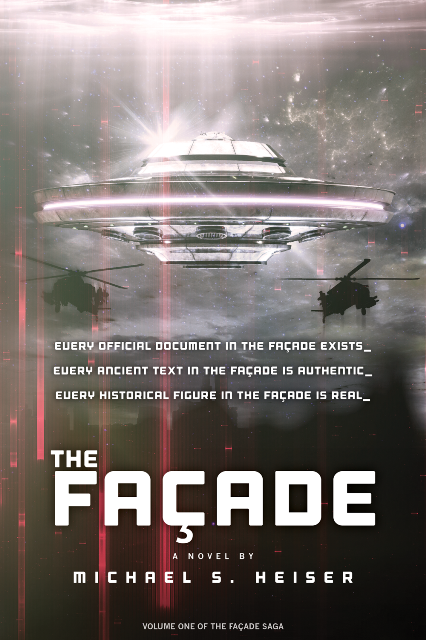 Notice the bottom text indicates a series. Yes, there will be at least one more. Now for The Portent:
The word "portent" refers to something ominous looming over the horizon — an omen. Hence the clock-face imagery, which I think is really cool.
For those who have read The Facade, here's the back cover text for the sequel: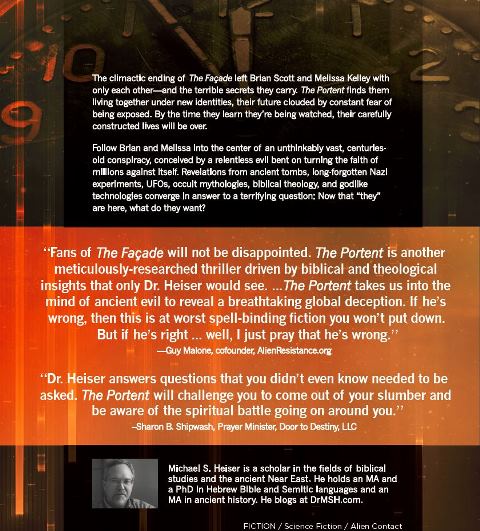 In case you can't read the text, here it is:
The climactic ending of The Façade left Brian Scott and Melissa Kelley with only each other—and the terrible secrets they carry. The Portent finds them living together under new identities, their future clouded by constant fear of being exposed. By the time they learn they're being watched, their carefully constructed lives will be over.

Follow Brian and Melissa into the center of an unthinkably vast conspiracy that spans centuries, crafted by a relentless evil bent on turning the faith of millions against itself. Revelations from ancient tombs, long-forgotten Nazi experiments, UFOs, occult mythologies, biblical theology, and technologies converge in answer to a terrifying question: Now that "they" are here, what do they want?
The Portent should be available in a week or so. Stay tuned!